You all wonder why I'm scared of fish?
Because there are things like this in the world: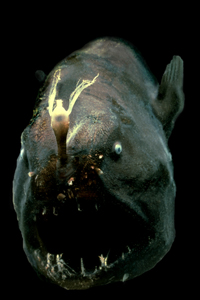 Mind you, they had a much more extreme drawing of this in one of my childhood encyclopedia books. Much scarier. But I can't find it. Next time I'm home I'm scanning that shit so you all can know my fear. There is also shit like this. Come on, how are those things NOT freaky?!
edit: the closest thing I can find to the image I remember is this:

Only I think of it as being about 4 feet long, at least.
Also, Frito's catch on fire easily and burn for a long time. I am going to use them as tinder from here on out. Try it out yourself! I built a little fire to the junk food gods earlier because I didn't believe the guy who told me. It's all the oil in them. That's just gross.
It's scary what happens when I'm left to my own devices.