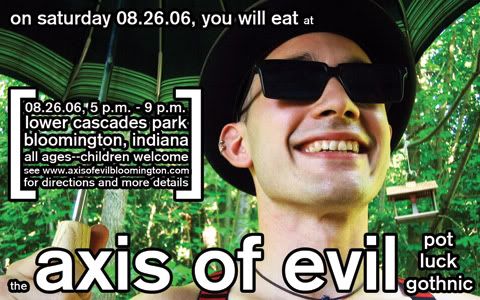 AXIS.OF.EVIL's Gothnic
08.26.06
Lower Cascades Park
Bloomington, Indiana
5 pm-9 pm
ALL AGES; CHILDREN WELCOME!!!
Our regular venue, the Tap, now "Jake's," is booked full up in August for their Grand (re)Opening!
So we're having a gothnic (industrialnic/wtfnic) on Saturday, August 26th at 5 pm at Cascades Park in B-Town (right off of Kinser Pike and 45/46–very close to highway 37). This will be an all-ages, no alcohol pitch-in dinner party. Families with children are welcome as are high-schoolers and college kids who aren't of age but want to meet people in their local scene.
If your last name begins with…
A-D, bring tasty beverages
E-I, bring snacky foods and appetizers
J-S, bring entree style/main course foods
T-Z, bring paper plates/cups/napkins, condiments, or dessert
Of course, you may e-mail us at axis.of.evil.bloomington at gmail dot com with any questions or if you need directions. Then again, that's what the forums located here are for.
Invite that interesting person you always see but never have a reason to talk to! This is it! What a great time to show your 'other' friends and family that your g/i friends aren't that scary. Name tags provided.
Once again, this is a NON-ALCOHOLIC event. Thank you.
However, for those who like to dance, drink, and are of age, we will be headed to Retro Night at Jake's after the gothnic has dispersed.
Thank you.