I've been dying my hair since 1999. It's been changing styles a lot in the time as well.
As a physical manifestation of time, it's a way I can tell where I was at mentally as well as physically at the time the picture was taken.
So here we go:
I had red hair that was down to my butt through all of high school, except when it was blue on the rare occasion.


(me with Madison, taken on Audrey's camera)
After I graduated high school I went to college for a year. My hair fluctuated between black, red, and blue. I also chopped it all off.


(me with Mom after I returned from visiting Corey in DC. taken on Seamus's camera)
Then I got bangs, and for my time with Corey in VA I had short red hair with bangs.


(Seamus took this in Montana)
After the move back to Indiana, about 6 months in, I was able to dye my hair blue, and haven't gone back since.


(Image and Shopping by Libby)
When Corey and I broke up, Libby was kind enough to cut and re-dye my hair. We lived together at this point, and it was great fun.


(image and shopping by Libby)
After the engagement with Jeremy ended, I asked Libby to give me a mohawk. She said to think about it for a week. We went out and bought a wig and watched a movie. I said I was ready. She asked if I could be please just wait 24 hours. We smoked a clove. She shaved my head (and did a damn fine job, despite my cow-lick)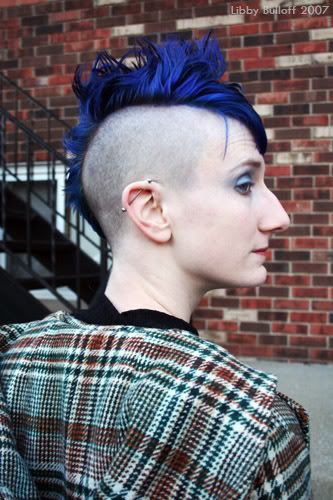 (again, with the Libby)
My favorite pictures have been taken with the hawk.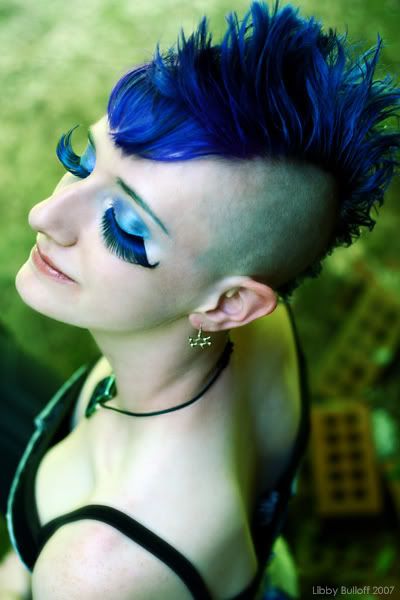 taken for frozenmusic, make-up and photography and photoshopping and amazing balancing plates by Libby!
I had extensions for a short time, also done by Libby, for the pure sake of having them.


exoskeleton cabaret!
Now the front has started to change colors.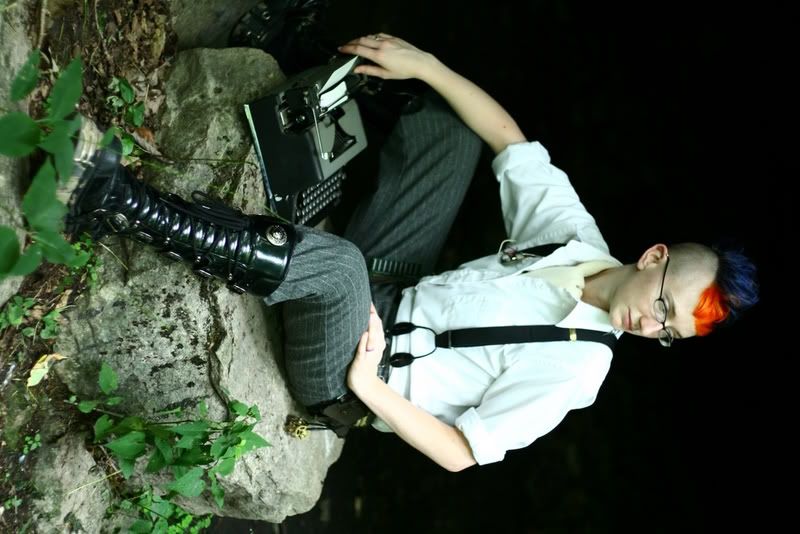 Orange was pretty awesome, but right now I'm sort of in love with the black front.


(first one for PipeDream, Libby's art show; second one of Molly and myself taken by Rex in San Francisco)
But now I'm itching for a change. I love my hawk (and the times I've had/lessons I've learned while having it), and do not want to get rid of it. And the majority will always be blue. But I need to change up something. Maybe more colors in the hawk itself, but I've also been thinking about shaving it up to accent my occipital protrusion or up to the crown of the head. I dunno. Input?